Medios Caminantes and Allied Media Conference 2011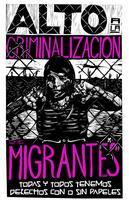 Allied Media Conference came and went and so much to take in for my first time. Needless to say is that Pan Left needs to go back next year. As for this year, a big GRACIAS to the organizers of Medios Caminantes (especially Ana Martina).  Being a part of this gathering of grassroots media makers from all over the Americas was powerful. A reminder that our struggle here locally goes beyond our borders and we are in this fight together. Here's a taste of what Medios Caminantes was about at the conference from a video I made for them.
And also here's a slide show from an excellent session with Santiago Armengod from Just Seeds. His workshop on print art and print making inspired me the most. The knowledge he shared shows that we all have many ways to tell stories, but the people's story can only truly come from the people.
Here's some links of interest.
https://we.riseup.net/amc-latina
http://www.radiospopulares.org/
http://www.justseeds.org/artists/santiago_armengod/
http://vozmob.net/